Frames for Android
the bowler's scoring and statistics software
for Android devices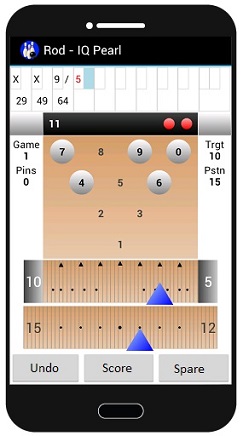 If you bowl, Frames can help you improve your game!
Frames is a very easy to use scoring and statistics program for bowling that runs on your Android device. See for yourself by downloading a free demo version of the program now!
Frames is designed for all levels of bowlers, from beginners who are looking for ways to improve, to scratch players who bowl in lots of tournaments.
With Frames, you can:
List your strike, pocket, carry, spare and single pin spare percentages.
Display your league, tournament, or overall average.
Generate statistics by alley, lane number, bowling ball, league, tournament, oil pattern, date range, or any combination of these.
Track your foot position and target by alley and lane number - check what worked (or what didn't work) the last time you bowled on a specific pair of lanes.
You can even display a list of the spares you leave most, and your conversion percentage for each of them!
Keep score for your whole team at the same time!
While you're keeping score with Frames, you enter the results of each shot graphically, using your handheld's trackball (or your finger for touch-screen devices) to knock down the pins on the screen to match the real thing. It literally takes only a second or two to score each frame while you're bowling!
For each strike shot, you can also keep track of your position on the approach, your target on the lane, the ball you used, and whether your shot hit the pocket.
When you are done bowling, you can use the Frames Exporter program on your desktop computer to print your games, or export them to a spreadsheet to do your own custom analysis.
For more details on the many features Frames has to offer, read the Frames Users Guide (you'll need the free Acrobat® Reader software from Adobe® to read it).
Download a free demo version of the program now! When you're convinced how much Frames can help you practice better, adjust faster, and score higher, go to the Google Play Store to purchase a Frames for Android license!